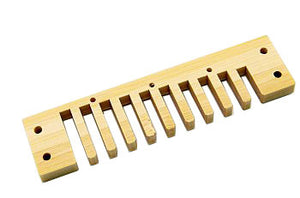 Hohner Crossover Stock Bamboo Comb free USA shipping!
Suitable for these models: Marine Band Crossover, Deluxe, 1896 with drilled out holes. and Thunderbird.
We have Long Slot (G through C, but can be used for all )
We also have Short Slot  ( Db - F# )

These are taken from new harmonicas when folks want a Andrew Zajac custom comb instead of the stock Bamboo comb.
---
---
We Also Recommend