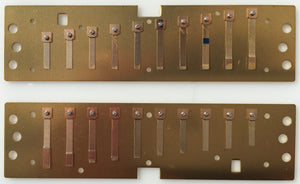 *Deal Of The Day* Hohner Rocket, Rocket AMP and Special 20 Reed Plates RP2013 (screws not included) Key of E. Includes Free USA Shipping
Key of E
Please note. Hohner offers Rocket reed plates to accommodate the Rocket, Rocket Amp, and Progressive Special 20's. Same plates for all three models.
Includes one Draw and one Blow plate.
Blow plate - Top 
Draw plate - Bottom
The reed plate screws are self-tapping. Simply press down and turn to form the threads into the opposite reed plate on the other side of the comb. There will be resistance the whole time as you turn the screw. Turn the screw until the screwhead is flush with the reed plate, so it is "bottomed out."
Folks: If your Special 20 top cover plate says Marine Band on it then it is the older style. The older NON Progressive Models will need the M1.6 Reed Plate Screws. These can be selected as an add on in the drop down menu above. 
If you are ordering these for a Rocket or newer Progressive Special 20 you can use the screws from the reed plates you are replacing.
Please note that Hohner does not offer Special 20 reed plates in alternate tunings such as Country, Natural or Harmonic Minor or low keys.
---
---
We Also Recommend