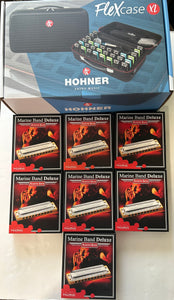 Hohner Marine Band Deluxe 7 Piece Bundle (You Pick The Keys) With Hohner Extra Large Flex Case. Includes Free USA Shipping
Hohner Marine Band Deluxe 7 Piece Bundle (You Pick The Keys) With Hohner Extra Large Flex Case.
Please note: Our Marine band Deluxes are supplied to us from KHS AMERCA/HOHNER USA via Hohner Germany. When you buy from RockinRonsMusic, the Hohner USA Warranty is quick and easy. Just let them know you bought it from us and there will be no problems.
Back to the roots - state of the art.
For more than 100 years, the Marine Band has been the favorite harmonica of artists like Little Walter, Paul Butterfield and Kim Wilson. Ever since 1896, discerning professional harmonica players in search of an unmistakable and unique sound have played the Hohner Marine Band as their instrument of choice.
The Marine Band Deluxe is a contemporary addition to the Marine Band legacy. Combining the features of the legendary harmonica with a variety of state-of-the-art improvements, the Marine Band Deluxe produces greater volume and faster response while retaining the richness and power of the harmonica's classic sound.
The key features and benefits of the Marine Band Deluxe include:
The classic Marine Band sound
Improved cover design for greater volume and enhanced stability
Assembled with 3 reed plate screws and 4 cover screws to maximize air tightness and facilitate maintenance (which makes it service friendly)
Sealed pear wood comb
Rounded channel openings and outer corners for greater playing comfort.
The tuning is rooted somewhere between A=443 and A=445, using a light temperament, with 5 and 9 draw tuned sharper than the MB Classic
MB Deluxe has cover plate screws not nails, Deluxe has open back and heavier gauge screws holding down the reed plate. Also, Deluxe has triple lacquered front comb like a Crossover. The screws and heavy laquer alone make it worth the upgrade.
Reeds: 20
Reedplates: Brass; 0.9 mm;
Comb: sealed Pearwood
Length in cm: approx. 10.0
Available in these keys: G, Ab, A, Bb, B, C, Db, D, Eb, E, F
In Stock!!!!
HOHNER presents three new harmonica storage and transport solutions, the "FlexCases".
Their sturdy construction and practical design makes them ideal for use on stage.
This is the Extra Large FlexCase. You can find the medium case here and the large case here.
Features:
Maximum configurational flexibility: thanks to a partly removable foam inlay, the FlexCase XL accommodates either 48 diatonic harmonicas, or 30 diatonic harmonicas plus two 12-hole chromatic harmonicas, or 30 diatonic harmonicas plus one 16-hole chromatic harmonica. Depending on the combination of the above, also a vocal microphone, a bullet microphone with lead, or numerous accessories and tools can fit in
The foam inlay protects each harmonica individually and thus avoids scratches or dents
Harmonicas are stored vertically, so that all of them can be seen at a glance in performance situations
The detachable tool bag is affixed with velcro, permitting the player to take instruments in carry-on baggage when travelling by air, while the tools can be packed in the checked baggage
Another bag, which can be either used for a chromatic harmonica, or to store the shoulder strap when not in use, is also attached with Velcro strips
The FlexCase XL can be closed entirely with a zipper for trouble-free transportation
A hand strap and a removable shoulder strap ensure optimal carrying comfort
Dimensions: 14.5 X 8.5 X 5 inches. Weight: 2.07235 LBS.
Content:
FlexCase XL
Detachable tool bag
Detachable bag for chromatic harmonica or shoulder straps
Removable shoulder straps
---
---
We Also Recommend