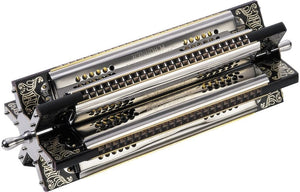 Hohner Tremolo Sextet 53/288 M532887 includes Free USA Shipping
SPECIAL ORDER. CAN TAKE FIVE MONTHS TO ARRIVE. 
THE TREMOLO ARMADA
If you really want to go the whole hog, you sometimes need a little bit more. Our Sextuple Kreuzwender, the world's largest tremolo harmonica, comprises a set of six instruments in all the most popular keys, held together like a paddlewheel by six-pointed star shaped spindle grips at the ends, so the player can rotate the entire instrument to switch keys, while holding it in both hands. Whether you play in a harmonica ensemble or on your own, with this amazing HOHNER exclusive you can almost feel the cool mountain water flowing around your toes. Great for all traditional folk music styles.
FEATURES
Six instruments in one
The unique construction allows you to switch between six different keys simply by turning the wheel
Adaptable construction
Individual harmonicas attached with screws so their order can be adjusted to suit your playing requirements
Slightly detuned reed pairs
Slightly detuned reed pairs ensure the classic tremolo sound
TECHNICAL DETAILS
Reed plates (material, thickness):    brass, 0.9 mm
Reed plates (surface):    brass
Reeds (number, material):    6 x 48
Comb (material, color):    maplewood, brown
Comb (finish):    double lacquered
Mouthpiece (surface):    maplewood
Cover plates:    stainless steel
Keys:    C/D/F/G/A/Bb
Type:    tremolo
Tuning:    Richter
Number of holes:    6 x 48
Tonal range:    6 x 3.5 octaves
Length:    27 cm / 10.6"
---
---
We Also Recommend