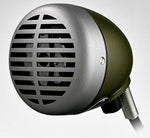 Shure 520DX Green Bullet Harmonica Microphone
Classic Microphones Iconic microphones that feature elegant, renowned product design with Shure sound quality price.
OmniDirectional Polar Pattern Equally sensitive to sound from all directions, but cannot be "aimed" to isolate one area.
Tailored Frequency Response Smooth, extended response. Tuned to accentuate specific types of instruments, or voices.
520DX"Green Bullet" Harmonica Microphone
Shure
Dynamic Simple, rugged diaphragm/coil. handles extreme volume levels without distortion.
Recommended Uses
Harmonica
With its signature green and chrome die-cast casing, the 520DX "Green Bullet" holds a spot in history as the definitive blues harp voice.
The 520DX features a volume control knob at the base of the microphone that allows users to make adjustments to suit their needs during live performance. An attached cable with a standard 1/4-inch plug allows the microphone to be connected to a high-impedance device. Contoured to fit perfectly between harmonica and hands, it can also be used for distinct, lo-fi vocals.
520DX includes attached cable
---
---
We Also Recommend