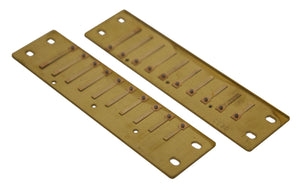 Hohner Crossover Reed Plates RP-2009 RP2009 (screws not included) Free USA Shipping
We order direct from HohnerUSA/KHS America. We offer quantity discounts.
Replacement Reed Plates for the Hohner Crossover. Also fits 1896 Marine Band and Marine Band Deluxe. Includes one Draw and one Blow Reed Plate.

Hohner sent us many reed plates with only German print on packaging. Here is what they sent when we mentioned this to them.
"I am sorry they came in marked with the German part numbers. There is a search field on the worldwide side of C Shop and the TM numbers should be here." so, we hand wrote them in for you. If you have a problem with this please contact Hohner. Thanks. (Hohner charges $9.00 to send one set of reed plates. We ship for free)
Reed Plate Screws not included. You can purchase M1.6 Reed Plate Screws in the drop down menu above.
Please contact us if you have questions on availability, we do our best to mark as "back ordered" if not in stock. If there is a key on back order, we do have Marine Band Deluxe Reed Plates, which many of you know is a fine substitute.
---
---
We Also Recommend