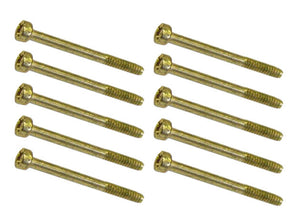 Hohner Chromatic Reed Plate Screws TM99202 PRICE INCLUDES FREE USA SHIPPING
Suitable for these models: Chrometta 10_40, Super 64, Meisterklasse 56 Chrom., CX-12 Jazz, 48 Töne, CX-12 gold, CX-12 schwarz_black, Larry Adler 16_64, Larry Adler 16_64, Chromonica III 280_64, Chromonica 270_48 Deluxe, Chrometta 8_32, Chrometta 14_56, Chrometta 12_48, XB-408 (short), Discovery 48, Chord 48, ACE 48 (Front)
Includes 10 screws. We order these directly from KHSAmerica/Hohner USA. Sometimes they appear used (not shiny). This is how they come. Don't order if you feel this is a problem.
The 64 and the CX-12 models will need 2pks.
Tim from Hohner says:
The self-tapping screws work for all current models already fitted with the same screws. If a customer orders replacement plates for a current model that already features screws, then the self-tapping screws will work. With that said, because the self-tapping screws are forming their own threads they tend to be very tight and if there is any sideways tension it can cause the reed plates to flex in various ways that often lead to reeds buzzing or sticking. The same is true for screws that are over torqued. Some customers might like to tap the threads in the reed plate in lieu of forming the threads with a self-tapping screw. Using a tap allows for a little bit looser fit an allows a little give so as to minimize the distorting effect sometimes affiliated with a tightly fitting screw that is slightly canted.
Best regards,
---
---
We Also Recommend