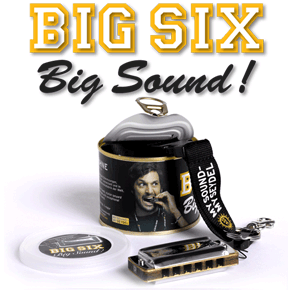 Seydel Big Six Classic Blues Includes Free USA Shipping
A real must-have - the BIG SIX with 6 holes!
Great sound because of stainless steel reeds also used in our top-model the 1847!
With mounting for the provided lanyard.
Packed into a tin-can, that serves as package but also as a resonator for many sound effects!
Sealed wooden comb made of beech.
The BIG SIX Blues is a standard diatonic harp in the key of C (holes 1-6 =12 tones) and is therefore suited best for playing in the second position.
Tones of the Big Six Blues (C-major) Classic
| | | | | | | |
| --- | --- | --- | --- | --- | --- | --- |
| Blow | C4 | E4 | G4 | C5 | E5 | G5 |
| Hole | 1 | 2 | 3 | 4 | 5 | 6 |
| Draw | D4 | G4 | B4 | D5 | F5 | A5 |
---
---
We Also Recommend