Suzuki Grégoire Maret G-48W Chromatic includes Free USA Shipping
Realizing Gregoire's persistence to sound
This is a Gregoire Maret signature model with wooden cover specification.

It features a more mellow and dark tone. Walnut is used for the cover, finished in a calm design with a sense of quality. And the volume and shape are decided for the purpose of easy to play, easy to fit in hand, also to have a more dark tone, and to have sufficient strength. It is the world's first mass-production model using wooden cover for chromatic harmonica.
※ Cover specification is changed from rosewood to walnut on December 5th in 2017.
*Image is walnut cover.
History of developing Gregoire Maret model
Gregoire Maret signature model is born.

The sticking to the sound consistently requested by Mr. Gregoire, it is "dark sound (deep sound)".
On Sale for a limited time, due to inventory balancing.
Mr. Gregoire made numerous suggestions such as two different covers that segmentalize the tone, materials, colors, and alignment. Those were feed back to the product. Here G-48, G-48W are born.

It is a model that Mr. Gregoire's esprit can be felt in detail.

For more detail, check artist comment.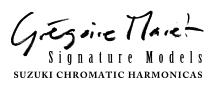 Remark :
Cover material was changed to walnut from rosewood.
Some Images in website and catalogs might be old rosewood cover specification.
---
---
We Also Recommend