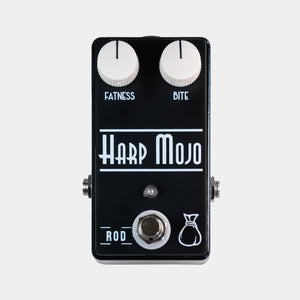 Harp ROD Effects Harmonica Pedal. Harp Mojo. Equalizer. Free USA Shipping.
We only ship these pedals to USA addresses. If you are outside the USA, please order directly from Rod or one of his outside the US retailers.  Thank you kindly. 
Controls:

Fatness
The body, the bass of the harmonica. The Fatness knob acts on the frequencies that generate the low mids but without losing clarity in the low notes.
Bite
This knob controls the definition of the harmonica. Many times when we want to give our sound a little more shine we end up invoking our enemy the coupling. The Bite knob allows you to give the sound more presence without promoting very high frequencies that can sound unpleasant or that can detonate a feedback.
Power:
9v dc center negative. No battery.
 FAQ:
What power supply is needed?
Any power supply designed to work at 9v with a negative center.
Are the pedals true bypass? Yes, the Harp Mojo (and all Rods pedals) are true bypass.
If you need any patch cables you can order here.
 ABOUT ROD
I´m a harp player. I play early electric Chicago blues, so I am always looking for the sound of the classic records that we love. I have recorded a couple of albums with my band Rod and the Chucos Suaves. You can check it on Youtube, they are free!
In 2020, due to the quarantine imposed by Covid-19, there was plenty of time, so I decided to fulfill a long-cherished dream: build my own electric toys!
I researched how to build effects pedals and put together several (more than I needed, of course) and little by little I began to understand how everything worked. Building guitar effects and trying to get them to work on the harmonica was my favorite hobby that pandemic year.
The pedals that I offer here are the result of that hobby mixed with the passion about the amplified harmonica tone and my experience as a gigging musician.
Each pedal has been designed by me and tested by various harmonica players around the world. Each pedal is built by hand at home, one small component at a time, and each pedal is tested by me before shipping.
Thank you for your interest  and support to Rod Harp Effects!
All pedals have a full 5-year warranty.
The warranty applies to the pedal, not the original buyer, so even if you got the pedal used you can still apply to it.
The warranty covers any malfunction of the mechanical parts and the circuit. The repair is free, you only have to pay the associated shipping costs.
The full warranty is void if the pedal has been modified in any way, or if it has suffered direct damage due to user negligence (spilled beer, for example).
If the warranty is voided, we will repair the pedal, but you will have to pay the cost of the spare parts in addition to the associated shipping costs. 
---
---
We Also Recommend