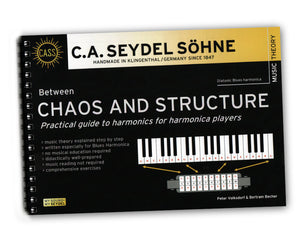 Seydel Between Chaos and Structure Guide to harmonics for Blues harmonica. English Version. Price includes US Shipping
Between Chaos and Structure - Practical guide to harmonics for harmonica players
Are you an advanced harmonica player who feels that you are not really making any progress?
Do you lack confidence about how to play along to more complex pieces?
Yes? Then you like to understand exactly what you are playing and why some notes fit while others do not!
This tutorial is created specifically for you as a harmonica player and will help you build a basis for your musical progress, helping you to feel and learn structure that can easily be lost in fog of improvisation.
music theory explained step by step
written especially for Blues Harmonica
no musical education required
didactically well-prepared
music reading not required
playing in different positions
analyzing and understanding music in general
comprehensive exercises
the book refers to a Blues harmonica in C (book without harmonica)
Knowledge about music theory (not reading sheet music) is the key for understanding musical structures - this is true for all kinds of music and musical instruments. The authors explain music theory step by step and provide practical playing tips with exercises designed specifically for harmonica players.
Peter Volksdorf is a multi-instrumentalist who plays the harmonica and many other instruments like accordion, guitar, banjo, and trumpet in different bands. Bertram Becher is a product specialist at SEYDEL Harmonica Company and has played both harmonica and keyboard in bands since the young age of 15 years. He wrote many tutorial books about Blues Harmonica including the SEYDEL SOUNDCHECKs and Interactive Blues Harp Workshop).
"Between Chaos and Structure" is the result of many years of experience as musicians and long conversations with harmonica players who were searching for more freedom and control while playing the harmonica.
Language: English; format: A5; spiral bindung; 108 pages
First review:
"Are you still blowing holes or are you playing music?
I was lucky to get a copy of the book 'Chaos and Structure' about one year before it was published. I hesitantly started reading and playing the exercises. I felt like a total beginner at first but the deeper I dived into the subject the more I really wanted to understand music theory...and while following the book and playing I did succeed!
The book explains harmonics, step-by-step and gives more and more confidence and structure to your own intuitive playing. If questions arise I now can answer them by myself with my harmonica. I worked out other playing positions on the instrument and I'm encouraged to to play pieces that I never thought I would ever be able to play. Since I worked through this book I did not have the feeling of not being able to further develop my playing anymore - thanks Peter and Bertram.
I can highly recommend 'Chaos and Structure' because it gives so many of these light-bulb moments - besides all the theory it is real fun. This is specialized literature that brings you forward in a sustainable manner."
Horst G.
---
---
We Also Recommend