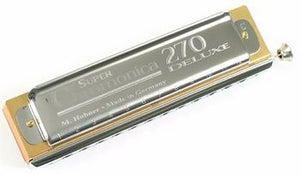 Hohner 270 Deluxe 7540 KEY C FREE USA SHIPPING!
The deluxe version of the traditional Super Chromonica has set another milestone in the manufacturing of top quality wood-bodied chromatic harmonicas. The Super Chromonica Deluxe incorporates a variety of improvements on the original design, which optimize handling and ensure greater volume and faster response, while retaining the rich and powerful classic Hohner sound. It is the ideal harmonica for both established and contemporary playing techniques.
Features:
Key C
Assembled with 5 reed plate screws to maximize airtightness and facilitate maintenance.
Chrome plated mouthpiece featuring round holes for greater playing comfort.
(will also fit the standard Super Chromonica and Toots' models).
Extra thick brass reedplates (1.2 mm) for a full, powerful sound.
Smooth and silent slide mechanism.
Natural finish pearwood body with rounded edges for improved ergonomics. The slide assembly can be installed for left-handed use.
The tested cover design is stable and robust and is attractively engraved.
Reeds: 48
Reedplates: Brass; 1.2 mm;
Comb: Wood (Pearwood)
Length in cm: ca. 15.5
---
---
We Also Recommend