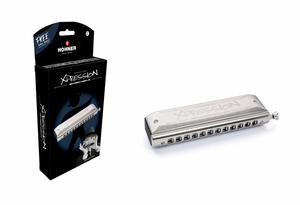 Hohner Xpression 12-Hole Chromatic. KEY OF C. M754301X. Includes Free USA Shipping
Xpression   

The new Chromonica "XPRESSION" Offers the latest technical features and impressive musical capabilities, lending to an expressive and comfortable performance achievable by beginners and advanced players alike. Thanks to its service-friendly construction, and the prioritization of air tightness during its development, the new "XPRESSION" can be used easily regardless of climatic conditions.
Features:
CNC milled stainless steel mouthpiece with excellent gliding properties and integrated precision slide to provide maximum comfort for the performer
Ergonomically shaped stainless steel cover plates for comfortable handling
Sound-optimized, sturdy ABS comb
Reed plates manufactured to prioritize maximum air tightness
Valves
Precision-machined brass reeds capable of supporting heavy use
All components assembled with screws for easy maintenance
Straight Tuned 12-Hole Chromatic
Key of C. If Hohner adds more keys we will list them. Chromatics come in the key of C unless other keys are specified.
Specifications:
Stainless Steel Mouthpiece
ABS Comb
Brass, 1,2mm Reed Plates
Made in Germany
Suitable For Players Of All Levels
Advantages for end customers:
• Excellent playing capabilities combined with comfortable handling
• Round, powerful sound with fast tone response

• Reliable playing regardless of climatic condition
• Easy maintenance
---
---
We Also Recommend