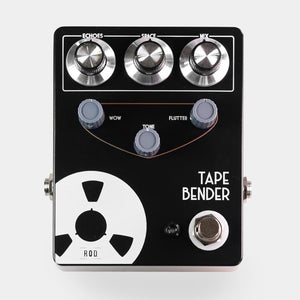 Harp ROD Effects Harmonica Pedal. Tape Bender. Free USA Shipping.
We only ship these pedals to USA addresses. If you are outside the USA, please order directly from Rod.
Tape Bender
We ship the Tape Bender to USA addresses.  If you are outside the USA please see Rod 
The Tape Bender is not a clean delay. lt has character. lt's an echo machine powered by a very special JFET circuit. lnside the Tape Bender there is a modified version of the famous Echoplex EP3 preamp. Used by many harmonica players to add low mids and sorne "mojo" to the sound. Also, the Wow and Flutter knobs can create interesting sounds. They are designed to mimic the mechanic alterations to the sound that a tape machine imparts on the sounds. Paired with the tone Tone knob, you can use the Tape Bender as a nice Hi Fi tape delay, or you can turn it into a Lo Fi machine.
The input impedance in the Tape Bender is 1M.
When connecting your microphone to the input of the pedal, your signal goes straight into the EP3 preamp, then it goes into a buffer that duplicate the signa l. One goes straight to the output and the other goes into the digital delay circuit. So, your original tone remains analog all the way through the signal (this is what is referred to as "analog signal path") and only the echoes are digital. Your tone is completely preserved.
FAQ:
What power supply is needed?

Any power supply designed to work at 9v with a negative center.
Are the pedals true bypass? Yes, the Harp Mojo (and all Rods pedals) are true bypass.
If you need any patch cables you can order here.
Power:
9v dc center negative.
You can download the manual at this link:
---
---
We Also Recommend