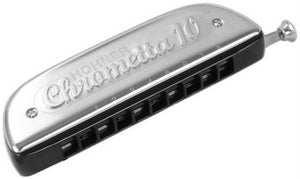 Hohner Chrometta 10 #253 Key of C includes Free USA Shipping
All Hohner Chrometta's reeds and reed plates come from Germany. They are put together in China.
THE NEXT STEP
On our Chrometta 10, the 2 additional channels extend the tonal range downwards as far as G3, which is the lowest note found on the violin. Learn to play pop songs, jazz standards or even classical melodies with this great beginner's chromatic!
FEATURES
Durable plastic comb
Reliable performance under all climate conditions thanks to resilient plastic comb
Stainless steel cover plates
Stylish stainless steel covers with a high level of comfort
Projecting mouthpiece
Projecting mouthpiece with large channel openings makes it easier for the beginner to play single notes
TECHNICAL DETAILS
Reed plates (material, thickness): brass, 1.05 mm
Reed plates (surface): brass
Reeds (number, material): 40, brass
Comb (material, color): ABS, black
Comb (finish): ABS, glossy
Mouthpiece (surface): ABS, glossy
Cover plates: stainless steel
Slide construction: zigzag
Keys: C
Type: chromatic
Tuning: solo tuning
Number of holes: 10
Tonal range: 2 1/2 octaves, G3 – Db6
Length: 14 cm / 5.5"
Made in Germany
Tuning chart

| | | | | | | | | | | | |
| --- | --- | --- | --- | --- | --- | --- | --- | --- | --- | --- | --- |
| Blow | G3 | C4 | C4 | E4 | G4 | C5 | C5 | E5 | G5 | C6 | |
| Hole | 1 | 2 | 3 | 4 | 5 | 6 | 7 | 8 | 9 | 10 | Slide Out |
| Draw | A3 | B(H)3 | D4 | F4 | A4 | B(H)4 | D5 | F5 | A5 | B(H)5 | |
| | | | | | | | | | | | |
| Blow | Ab3 | Db4 | Db4 | F4 | Ab4 | Db5 | Db5 | F5 | Ab5 | Db6 | |
| Hole | 1 | 2 | 3 | 4 | 5 | 6 | 7 | 8 | 9 | 10 | Slide In |
| Draw | Bb3 | C4 | Eb4 | F#4 | Bb4 | C5 | Eb5 | F#5 | Bb5 | C6 | |
---
---
We Also Recommend