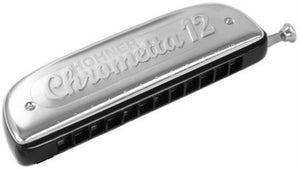 Hohner Chrometta 12 #255 Key of C and G includes Free USA Shipping
All Hohner Chrometta's reeds and reed plates come from Germany. They are put together in China.
THE CHROMATIC EXPLORER
Explore the exciting world of chromatic harmonica with the Chrometta 12, the first in this series to offer the full three octave range of our more expensive models. It's the perfect entry level instrument for the advanced student who really wants to get to grips with the chromatic harmonica.
FEATURES
Durable plastic comb
Reliable performance under all climate conditions thanks to resilient plastic comb
Stainless steel cover plates
Stylish stainless steel covers with a high level of comfort
Projecting mouthpiece
Projecting mouthpiece with large channel openings makes it easier for the beginner to play single notes
Full 3 octave range
The first instrument in the Chrometta Series with the full 3 octave range of more expensive chromatics
TECHNICAL DETAILS
Reed plates (material, thickness): brass, 1.05 mm
Reed plates (surface): brass
Reeds (number, material): 48, brass
Comb (material, color): ABS, black
Comb (finish): ABS, glossy
Mouthpiece (surface): ABS, glossy
Cover plates: stainless steel
Slide construction: zigzag
Keys: C, G
Type: chromatic
Tuning: solo tuning
Number of holes: 12
Tonal range: 3 octaves
Length: 16.5 cm / 6.5"
Tuning chart

| | | | | | | | | | | | | | |
| --- | --- | --- | --- | --- | --- | --- | --- | --- | --- | --- | --- | --- | --- |
| Blow | C4 | E4 | G4 | C5 | C5 | E5 | G5 | C6 | C6 | E6 | G6 | C7 | |
| Hole | 1 | 2 | 3 | 4 | 5 | 6 | 7 | 8 | 9 | 10 | 11 | 12 | Slide Out |
| Draw | D4 | F4 | A4 | B(H)4 | D5 | F5 | A5 | B(H)5 | D6 | F6 | A6 | B(H)6 | |
| | | | | | | | | | | | | | |
| Blow | Db4 | F4 | Ab4 | Db5 | Db5 | F5 | Ab5 | Db6 | Db6 | F6 | Ab6 | Db7 | |
| Hole | 1 | 2 | 3 | 4 | 5 | 6 | 7 | 8 | 9 | 10 | 11 | 12 | Slide In |
| Draw | Eb4 | F#4 | Bb4 | C5 | Eb5 | F#5 | Bb5 | C6 | Eb6 | F#6 | Bb6 | D7 | |
---
---
We Also Recommend