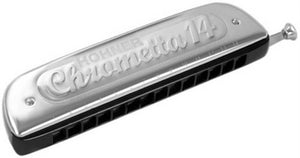 Hohner Chrometta 14 #257 Key of C includes Free USA Shipping
All Hohner Chrometta's reeds and reed plates come from Germany. They are put together in China.
THE FULL CHROMATIC EXPERIENCE
The largest of the Chrometta Series, this model has the same tonal range as a violin, making it possible to play many classical pieces which require a greater range than that of the 3 octave chromatic. It's great for ambitious beginners who want to stretch out and expand their musical boundaries. A true chromatic wonder boy at an incredible price.
FEATURES
Big tonal range
Offers the complete tonal range of a violin
Durable plastic comb
Reliable performance under all climate conditions thanks to resilient plastic comb
Stainless steel cover plates
Stylish stainless steel covers with a high level of comfort
Projecting mouthpiece
Projecting mouthpiece with large channel openings makes it easier for the beginner to play single notes
TECHNICAL DETAILS
Reed plates (material, thickness): brass, 1.05 mm
Reed plates (surface): brass
Reeds (number, material): 56, brass
Comb (material, color): ABS, black
Comb (finish): ABS, glossy
Mouthpiece (surface): ABS, glossy
Cover plates: stainless steel
Slide construction: zigzag
Keys: C
Type: chromatic
Tuning: solo tuning
Number of holes: 14
Tonal range: 3 1/2 octaves, G3 – D7
Length: 19 cm / 7.5"
Tuning chart

| | | | | | | | | | | | | | | | |
| --- | --- | --- | --- | --- | --- | --- | --- | --- | --- | --- | --- | --- | --- | --- | --- |
| Blow | G3 | C4 | C4 | E4 | G4 | C5 | C5 | E5 | G5 | C6 | C6 | E6 | G6 | C7 | |
| Hole | 1 | 2 | 3 | 4 | 5 | 6 | 7 | 8 | 9 | 10 | 11 | 12 | 13 | 14 | Slide Out |
| Draw | A3 | B(H)3 | D4 | F4 | A4 | B(H)4 | D5 | F5 | A5 | B(H)5 | D6 | F6 | A6 | B(H)6 | |
| | | | | | | | | | | | | | | | |
| Blow | Ab3 | Db4 | Db4 | F4 | Ab4 | Db5 | Db5 | F5 | Ab5 | Db6 | Db6 | F6 | Ab6 | Db7 | |
| Hole | 1 | 2 | 3 | 4 | 5 | 6 | 7 | 8 | 9 | 10 | 11 | 12 | 13 | 14 | Slide In |
| Draw | Bb3 | C4 | Eb4 | F#4 | Bb4 | C5 | Eb5 | F#5 | Bb5 | C6 | Eb6 | F#6 | Bb6 | D7 | |
---
---
We Also Recommend