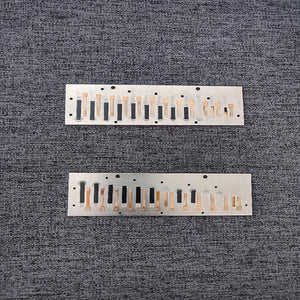 Kongsheng Lyra Reed Plate Set. Silver OR Gold. Includes Free USA Shipping.
These reed plates like all the others we stock come directly from the manufacturer. These reed plates might need fine tuning. They could also need gapping to your preference. If you do not like this info please don't order. There will be no warranty for gapping, tuning, or technique issues.
Warm your Chromatics before playing.
Kongsheng Lyra Reed Plate Set.
Blow and Draw Plate.
 Silver Model
Gold Model
Key of C.
---
---
We Also Recommend