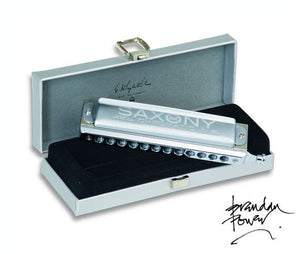 Seydel PowerChromatic SAXONY Key G includes Free USA Shipping
2-3 week wait
PowerChromatic SAXONY tuning - very versatile special tuning for playing any musical style. Please note if we do not have them in stock, the PowerChromatic variant is produced on demand! Therefore delivery might take 2-3 weeks.
The PowerChromatic is a half-valved chromatic harmonica with 12 holes, 48 traditional stainless steel reeds - model SAXONY with aluminium comb and trapezoidal-shaped mouthpiece.
Brendan invented the half-valved PowerChromatic tuning in the early 1980s and has recorded extensively with it ever since then.
Here's why it sounds so good:
Every draw reed bends a semitone. This gives you lots of soulful expression, just like on a 10 hole diatonic harp.
The draw bends give many of what Brendan calls "Bend Enharmonics". That means you can get half the existing notes on the harmonica also as soulful draw bends!
Blow Slide-In is the same as Draw-Bend Slide-Out, and Draw Slide-Out is the same as Draw-Bend Slide-In. This gives many more options for easier phrasing and a more flowing sound.
Fully chromatic in 3 octaves with slider button, just like a solo-tuned chromatic harmonica.
Every octave has the same breathing pattern, and the blow reed is always lower than the draw.
You can play lots of chromatic phrases with draw-bending instead of using slider button.
Easy to play in many different keys, as the draw-bending options mean you don't have to use the slider button so much.
You will be amazed at how soulful a chromatic harmonica can sound when you play the half-valved PowerChromatic.
Tuning - PowerChrom
blow

——|

A3
C4
E4
G4
A4
C5
E5
G5
A5
C6
E6
G6
draw

——|

B3
D4
F#4
A4
B4
D5
F#5
A5
B5
D6
F#6
A6
Hole
1
2
3
4
5
6
7
8
9
10
11
12
blow

—|

A#3
C#4
F4
G#4
A#4
C#5
F5
G#5
A#5
C#6
F6
G#6
draw

—|

C4
D#4
G4
A#4
C5
D#5
G5
A#5
C6
D#6
G6
A#6
half-valved completely (draw reeds)
Want a nice carrying bag for your harp? Check out the Seydel Beltbag here
---
---
We Also Recommend