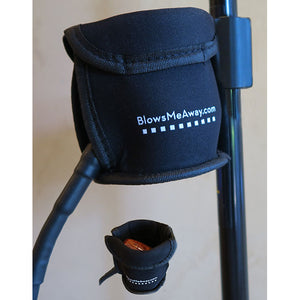 The Bullet Proofer by BlowsMeAway Productions PRICE Includes Free USA Shipping
FREE USA shipping!!!
Clamp-on Protective Microphone Holder
Fragile Crystal? Custom Paint Job? Beautiful wood?
Worry No More!
It's about time somebody came up with a design that actually protects your valuable mic!
Slot for cable means mic sits in, not on. Mic won't fall out, even if you trip over the cable
Soft cushioned neoprene over spring steel frame gently cradles your mic
Inside diameter expands to 3 1/4" to fit any bullet
Attaches to any mic or music stand from 3/8" to 1" tubing
Padded clamp with nylon screw - won't damage your stand
Never knock your mic off the stand again!
Mic and stand not included
---
---
We Also Recommend