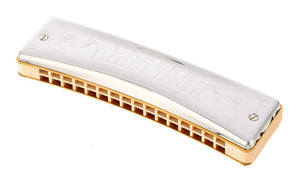 Hohner Octave Series Unsere Lieblinge 32 Hole. 6195/32 Includes Free USA Shipping
THE DARLING OF FOLK MUSIC
Its warm, rich sound bears the promise of comfort and familiarity, conjuring up images of of green pastures, cool streams and snowcapped mountain peaks in the distance. The name itself is a promise: "Unsere Lieblinge" is German for "our favorites". The smallest instrument in our Octave Series, the Unsere Lieblings 32 is a favorite for Alpine folk music, but it's equally suitable for pop and evergreens. And it fits perfectly into your pocket.
FEATURES
Durable wooden comb
Attractive durable double lacquered maple comb minimizes swelling
Elegant covers, attached with screws
Covers mounted with screws for ease of maintenance
Distinctive curved form
The curved form ensures comfortable handling
TECHNICAL DETAILS
Reed plates (material, thickness): brass, 0.9 mm
Reed plates (surface): brass
Reeds (number, material): 32, brass
Comb (material, color): maple, blonde
Comb (finish): lacquered
Mouthpiece (surface): maple
Cover plates: stainless steel
Keys: C and G
Type: octave
Tuning: Richter / Knittlinger octave
Number of holes: 32
Tonal range: 2 octaves
Length: 12.7 cm / 5"
---
---
We Also Recommend