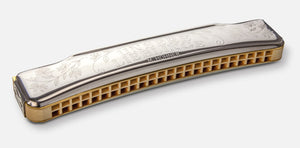 Hohner Octave Series Unsere Lieblinge 48 Hole Key of C M7332017 includes Free USA Shipping
EVERYBODY'S DARLING
Its warm, rich sound bears the promise of comfort and familiarity, conjuring up images of green pastures, cool streams and snowcapped mountain peaks in the distance. The larger of our two Unsere Lieblinge models, the 48 offers additional notes in both upper and lower registers. The name is German for "our favorites", and the Unsere Liebling 48 is another favorite for Alpine folk music, while equally suitable for pop and evergreens. A true classic which you can take with you anywhere.
FEATURES
Durable wooden comb
Attractive durable double lacquered maple comb minimizes swelling
Elegant covers, attached with nails
Covers are affixed with nails for the traditional look and feel
Distinctive curved form
The curved form ensures comfortable handling
TECHNICAL DETAILS
Reed plates (material, thickness): brass, 0.9 mm
Reed plates (surface): brass
Reeds (number, material): 48, brass
Comb (material, color): maple, blonde
Comb (finish): lacquered
Mouthpiece (surface): maple
Cover plates: stainless steel
Keys: C
Type: octave
Tuning: Richter / Knittlinger octave
Number of holes: 48
Tonal range: 3.5 octaves
Length: 17.8 cm / 7"
---
---
We Also Recommend