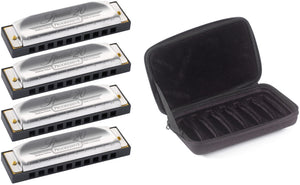 Hohner Special 20 4 Piece Set with Hohner C7 Case YOU PICK THE KEYS free USA shipping
Exclusive RockinRons Offer. 4 Piece Hohner Special 20 Set with C7 Case.
We make this up for you. Harmonicas will be inside the case.
YOU PICK THE KEYS. NO DUPLICATE KEYS. Available keys are G, Ab, A, Bb, B, C, Db, D, Eb, E, F, F#, and High G. Standard tunings only.
Features Hohner's durable plastic comb with recessed reed plates for playing comfort. The stable, airtight construction and full sound make the Special 20 one of the most popular diatonic models.
Awesome response, superior bendability and the sweetest tone ever. This harp is the first choice for those learning to play. Recommended go-to harp for harmonica players of any style, including blues, country, folk or rock. The plastic comb doesn't absorb moisture making it longer lasting. Harp of choice of harmonica virtuoso John Popper (of Blues Traveler) and played by Bob Dylan on his 2007/08 tour. Chances are your favorite player has several of these harps in his case.
Reeds: 20
Reedplates: Brass; 0.9 mm
Comb: Plastic
Length in cm: approx. 10.0
Order replacement reed plates from here
The workhorse harmonica for over 40 years!
The New Standard.
Response, superior bending, and a rich tone are all unique qualities of the Special 20. Featuring a durable, airtight, plastic comb, it has become the harmonica of choice for musicians that enjoy a wide variety of genres from country and folk, to rhythm and blues. Available in 12 major keys as well as a special Country Tuning, which features a major 7th when played in the cross harp position.
Features
German craftsmanship provides superior response, bendability and tone
Precision molded plastic comb for unmatched comfort and durability
Recessed reed plates and airtight designfor consistently excellent performance
Specifications
item name Special 20 Classic
type diatonic
Key 12 standard + HG
tuning Richter
Number of holes 10
Reeds 20 brass
Cover surface stainless steel
Reed plates 0,9 mm brass
Reed plate surface brass
Mouthpiece surface ABS
Comb ABS, black
Length 10 cm
---
---
We Also Recommend