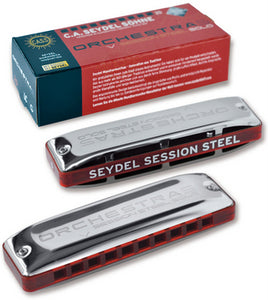 Seydel Session Steel Orchestra S Harmonica. 10330 Includes Free USA Shipping
Available in Keys LC, LD, LF, G, A
We also have the configured keys from time to time. They are shown in the key drop down menu for an additional $20
Solo-tuned diatonic Harmonica with corrosion-free stainless steel reeds (orchestra-tuning), ergonomic covers and carmine red plastic comb.
The ORCHESTRA S: We are excited to offer a ten-hole, solo-tuned harmonica (Orchestra-tuning)! As with the chromatic harmonica, all notes from the major scale are available throughout a two-and-a-half octave range.
The ORCHESTRA S offers even more! Typically, the root note is found in hole 1-blow. The ORCHESTRA S places the root note at hole 3-blow, and half of the lower octave is added to holes 1 and 2. Since many players miss some of the notes on the standard Richter-tuned diatonic harmonica in the lower register the ORCHESTRA S allows them to hit the missing notes without having to apply a bending technique. The root note of the diatonic major scale is marked on the coverplate - it starts in 3 blow.
This makes the ORCHESTRA S an ideal soloing instrument; the ten-hole design makes the Orchestra-S compact enough to take your melodies anywhere!
The note layout is basically the same as that of a chromatic harmonica, making the ORCHESTRA S a great starting harmonica for learning to play a chromatic. The compact size combined with SEYDEL's durability makes the ORCHESTRA S a good choice for musical education in schools.
The ORCHESTRA S opens new possibilities to blues harmonica players by making it easy to play minor pieces (3rd position) with a sound similar to solos played on a chromatic, thanks to the solo-tuning. They will also appreciate the extended major scale in the lower register. The root note of the dominant chord is available in the hole 1-draw, making it similar to playing in 2nd position on a standard Richter-tuned harmonica.
Seasoned blues players will find all the notes of the blues scale through natural notes and bent notes, bringing soul and color to their blues improvisation.
Solo-tuning in a ten-hole, compact harmonica
Expanded tonal range in the lower register (Orchestra tuning)
Stainless-steel reeds, coverplates, and screws combined for unparalleled durability (outlasting brass-reed models by up to five-times)
Anti-corrosive, German-silver reedplates
Lip-friendly, translucent carmine red plastic comb (ABS) with recessed reedplates
Protective, full-grain leather pouch included
Tuning - LC
| | | | | | | | | | | |
| --- | --- | --- | --- | --- | --- | --- | --- | --- | --- | --- |
| blow | G3 | C4 | C4 | E4 | G4 | C5 | C5 | E5 | G5 | C6 |
| Hole | 1 | 2 | 3 | 4 | 5 | 6 | 7 | 8 | 9 | 10 |
| draw | A3 | B3 | D4 | F4 | A4 | B4 | D5 | F5 | A5 | B5 |
Tuning - LD
| | | | | | | | | | | |
| --- | --- | --- | --- | --- | --- | --- | --- | --- | --- | --- |
| blow | A3 | D4 | D4 | F#4 | A4 | D5 | D5 | F#5 | A5 | D6 |
| Hole | 1 | 2 | 3 | 4 | 5 | 6 | 7 | 8 | 9 | 10 |
| draw | B3 | C#4 | E4 | G4 | B4 | C#5 | E5 | G5 | B5 | C#6 |
Tuning - LF
| | | | | | | | | | | |
| --- | --- | --- | --- | --- | --- | --- | --- | --- | --- | --- |
| blow | C4 | F4 | F4 | A4 | C5 | F5 | F5 | A5 | C6 | F6 |
| Hole | 1 | 2 | 3 | 4 | 5 | 6 | 7 | 8 | 9 | 10 |
| draw | D4 | E4 | G4 | A#4 | D5 | E5 | G5 | A#5 | D6 | E6 |
Tuning - G
| | | | | | | | | | | |
| --- | --- | --- | --- | --- | --- | --- | --- | --- | --- | --- |
| blow | D4 | G4 | G4 | B4 | D5 | G5 | G5 | B5 | D6 | G6 |
| Hole | 1 | 2 | 3 | 4 | 5 | 6 | 7 | 8 | 9 | 10 |
| draw | E4 | F#4 | A4 | C5 | E5 | F#5 | A5 | C6 | E6 | F#6 |
Tuning - A
| | | | | | | | | | | |
| --- | --- | --- | --- | --- | --- | --- | --- | --- | --- | --- |
| blow | E4 | A4 | A4 | C#5 | E5 | A5 | A5 | C#6 | E6 | A6 |
| Hole | 1 | 2 | 3 | 4 | 5 | 6 | 7 | 8 | 9 | 10 |
| draw | F#4 | G#4 | B4 | D5 | F#5 | G#5 | B5 | D6 | F#6 | G#6 |
Order replacement reed plates from here
Want a nice carrying bag for your harp? Check out the Seydel Beltbag here
---
---
We Also Recommend