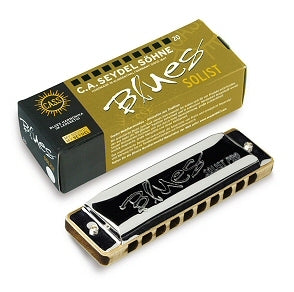 Seydel Solist Pro includes Free USA Shipping
We do not stock this model. Your orders will be sent directly from Seydel USA.
They use USPS and it will take approx 3-5 days.
The Solist Pro has the following features:
Brass reedplates optimized for loudness and extreme airtightness
Reeds specially set for best response
Half-flat covers for brilliant sound
Wooden body, multiple coats of sealant for a resistant finish
The wooden body is ground in two planes around the mouthpiece, so that the hole openings have an oval shape. At the same time, the front fits better to the lips, so that airloss becomes less.
With careful rounding of the dividers at the hole entrances, the kind of lip care is achieved that is usually only possible with plastic. This is additionally supported by the full sealing of the comb.
The surface left naturally after the grinding process provides a very self-contained design, distinctive and identically with the region our harmonicas are made.
Seydel no longer offers "brass" replacement reed plates. You will need to order 1847 Reed Plates if you want to replace your Solist Pro reed plates.
Order replacement reed plates from here
Want a nice carrying bag for your harp? Check out the Seydel Beltbag here
---
---
We Also Recommend