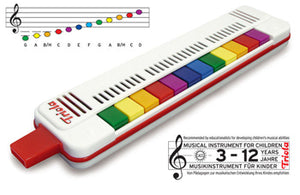 Seydel Triola includes Free USA Shipping
Blow-harmonica with 12 notes - from 3 years on Simply follow the colors!
The Triola is a colorful introduction to music for children. So easy to play - just press the colored keys the same as shown with the corresponding notes for your favourite nursery rhymes and children's songs. Children learn to read music through play.
The Triola is a handmade and hand tuned single tone wind harmonica, designed to teach children from 3 years and above. It has 12 notes ranging from G4 to D6, 26.4cm in length and is tuned to C-major. It works by simply blowing into the instrument and pressing the colored keys. Four adequate Triola Songbooks are also available.
---
---
We Also Recommend